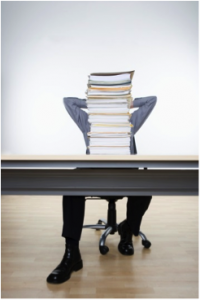 Look at your desk. Too much paper? It's time to take control.
The key to banishing the paper monster from your life is to choose a simple document management system that works for you. That can be something as low tech as taking an envelope, writing the name of the month on the outside, stuffing all the relevant receipts inside and filing the envelope in a file cabinet. Just be consistent. Set aside time each week to handle the papers. Set a timer if you have to. Be consistent.
Considering the ink on many receipts disappears in a short period of time, going paperless might be a better option in eliminating the paper monster factor. If you shred the documents after scanning, your business records will take up more space on your hard drive than physical space. There are many solutions to choose from so consider these things before choosing a system.
1. Choose a system that matches your work style.
2. Choose a cost effective but easy to learn and use system.
3. Necessity of sharing the scanned documents with others.
4. Consider how important your document management solution is to be integrated with other software you are currently using (email, finance, CRM, project management and such).
One solution is to use the scanner on the all-in-one printer in your office to scan and file each document. This is the option I used until my business picked up and I fell far behind. Then I looked for another solution. You could also purchase a scanner such as Neat Receipts or Scan Snap that come with their own document management software and integrate with other applications as well. I considered purchasing a mobile scanner by Scan Snap but decided the real issue was, not having time to do the scanning.
If you are away, the camera on your phone will do a great job taking photos of receipts and other documents. You can add those photos directly to Evernote, Shoeboxed, Dropbox, and many others.
Ultimately I chose to use Shoeboxed for my document management. I stuff my documents in a prepaid envelope and they do the scanning. I use their integration with Evernote to organize my documents (receipts, business cards, etc.) into various notebooks. I also use DropBox for document sharing. Except for documents of a legal nature (business licenses, etc.), I shred everything after it's been scanned. This works for me. For now.
Just as I realized doing my own scanning was no longer practical, my current solution may need tweaking (or even changing altogether) in the future. Choose the best solution for your business now, but choose something that has a few additional features so that it can grow with your business.
This isn't meant to be an all-inclusive guide. Will the solution that works for me, also work for you? Maybe. You and your business are unique. It's essential that you choose a document management solution that you are willing to use consistently and get the results you want; organized business records.
Please follow and like me: